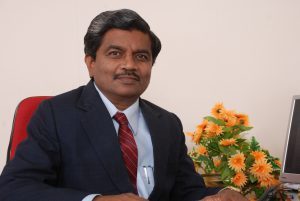 Dr.A.Senthil Kumar, B.E.,M.E.,Ph.D., is an able administrator and a committed teacher with more than twenty five years of teaching and research experience. He was the former Vice Principal and Dean, Mechanical Engineering in Sethu Institute of Technology. He is also the Academic Council member of Anna University of Technology, Tirunelveli.
He has specialized in Mechanical Engineering and has a flair for research in various fields like metal machining, ceramic composites, metal matrix composites and polymer matrix composites. He has published more than 30 technical papers in various International and National Journals and 50 technical papers in various reputed International and National conferences. A few of his papers in the International Journals were the most frequently downloaded articles in the year 2004 and 2006.
He is also a reviewer in various International Journals. He was awarded as an outstanding reviewer by the Editors of Materials & design, an Elsevier Journal. He has been actively involved in all administrative and developmental activities of the institution and continuously strives to achieve the vision of the Institution.
Publications:

Senthil Kumar, A. Rajadurai, T. Sornakumar, "Machinability of Hardened Steel Using Alumina Based Ceramic Cutting Tools" International Journal of Refractory Metals & Hard Materials, 2003, Vol.21, 109-117          
Senthil Kumar, A. Rajadurai, T. Sornakumar, "Development of alumina-ceria ceramic composite cutting tool" International Journal of Refractory Metals & Hard Materials, 2004, Vol.22, 17-20

 A. Senthil Kumar, A. Rajadurai, T. Sornakumar, "Yttria ceramics: cutting tool application." Materials Letters, 2004, Vol. 58 [11], 1808-1810

A. Senthil Kumar, A. Rajadurai, T. Sornakumar, "Performance Characteristics of Alumina-Yttria Ceramic Cutting Tool on Machining Grey Cast Iron" Industrial Ceramics, 2004, Vol.24 [2], 109-113 

Senthil Kumar, A. Rajadurai, T. Sornakumar, "Performance Characteristics of Ceria Toughened Alumina Ceramic Cutting Tool on Machining C 30 Steel" Powder Metallurgy, 2004, Vol.47[3] , 235-238

Senthil Kumar, A. Rajadurai, T. Sornakumar, "Ceria Cutting tool" American ceramic Society Bulletin, March 2004, Vol. 83[3], p17

 A. Senthil Kumar, A. Rajadurai, T. Sornakumar, "Wear behaviour of alumina based ceramic cutting tools on machining steels" was published in Tribology International, 2006, Vol. 39,191-197

 A. Senthil Kumar, A. Rajadurai, T. Sornakumar "Effect of Tool wear on Tool Life of Alumina based Ceramic Cutting Tools on Machining Hardened Martensitic Stainless Steel." Journal of Materials Processing Technology, 2006, Vol.173, 151–156 

Senthil Kumar, A. Rajadurai, T. Sornakumar "Development of yttria and ceria toughened alumina composite for cutting tool application." International Journal of Refractory Metals & Hard Materials, 2007, Vol. 25, 214–219

Senthil Kumar, M. Adam Khan, R. Thiraviam T. Sornakumar, 'Machining parameters optimization of alumina based ceramic cutting tools' Machining Science and technology, 2006, Vol.10, 471-489

Thiraviam T. Sornakumar Senthil Kumar 'Development of Copper – Alumina Metal Matrix Composites by Powder Metallurgy Method' International Journal of Materials and Product Technology, 2008, Vol.31, 305-313

Sornakumar, A. Senthil Kumar, "Machinability of bronze–alumina composite with tungsten carbide cutting tool inserts." Journal of Materials Processing Technology, 2008, Vol. 202, 402 – 405

V. Sreerama Reddy, T. Sornakumar, M. Venkatarama Reddy, Venkatram, and A. Senthilkumar, "Turning Studies of Deep Cryogenic Treated P-40 Tungsten Carbide Cutting Tool Inserts" Machining Science and Technology, 2009, Vol.13, 143–155

Siddhi Jailani, A. Rajadurai, B. Mohan, A. Senthil Kumar and T. Sornakumar, "Multi-response optimisation of sintering parameters of Al–Si alloy/fly ash composite using Taguchi method and grey relational analysis" International Journal of Advanced Manufacturing Technology, 2009, Vol. 45, 362–369

Siddhi Jailani, A. Rajadurai, B. Mohan, A. Senthil Kumar and T. Sornakumar, "Development and properties of aluminum silicon alloy – fly ash composites" Powder Metallurgy, 2011, Vol. 54 NO 4, 474-479

Sornakumar, M. Kathiresan and A. Senthilkumar Drilling of die cast aluminium alloy–aluminium oxide composites Material Research Innovations, 2010, Vol.14 [4], 293-296

Poomari, B. Mohan, A. Senthilkumar, A. Rajadurai and T. Sornakumar, "Effectiveness of Cryogenic Treatment on the Performance of Cermet Cutting Tools while Machining AISI 4340 Steel" International Journal of Material Science, 2009, Vol. 4 [3], 215–228

Poomari, B. Mohan, A. Senthilkumar, A. Rajadurai and T. Sornakumar, "Machinability of Ti-Al-N Coated Cermet Tool with the Ti[C,N] mixed Alumina Ceramic Cutting Tool and the Uncoated Cermet Cutting Tool while Machining AISI D2 Steel" International Journal of Manufacturing Science and Technology, 2009, Vol. 3(1), 101-109  

Sornakumar T, Kathiresan M. and Senthil Kumar A, 'Studies on drilling of die cast aluminum alloy – aluminum oxide composites', Materials Research Innovations, 2010, Vol.14(4), pp.293 – 296. Maney Publishing.

Adam Khan, A. Senthil Kumar, " Machinability of Glass Fibre Reinforced Plastic (GFRP) Composite using Alumina based Ceramic Cutting Tools" Journal of Manufacturing Processes, 2011, Vol. 13 (1), 67-73

Adam Khan & A. Senthil Kumar & A. Poomari 'An hybrid algorithm to optimize cutting parameter for machining GFRP composite using alumina cutting tools' International Journal of Advanced Manufacturing Technology, 2012, Vol. 59, 1047–1056

Vasant Naidu, S. Vijayaragavan, R.Legadevi, Senthil Kumar, "Synthesis of Nano sized Sm-Gd doped Magnesium ferrite and their Permittivity and Hysteresis Studies." International Journal of Computer Applications September 2011, Vol. 29(7), 13-23

Poomari, B. Mohan, A. Senthilkumar, A. Rajadurai, "Wear Performance of Ti-Al-N Coated and Cryogenically Treated Cermet Tools While Machining AISI 4340 Steel" Advanced Materials Research, 2013, Vols. 622-623, 404-408

Poomari, B. Mohan, , A. Rajadurai A. Senthilkumar, Study on tool life of coated, cryogenically treated and coated and plain cermet cutting tools while machining steel, European Journal of Scientific Research, 2012, Vol. 85(3), 394 – 407.

Vasant Naidu, S.K.A. Ahamed Kandu Sahib, M.Sivabharathy, R.Legadevi, Senthil Kumar, Chandra Prakash and S.Pandian, "Synthesis and Characterization of Novel Nano Ceramic Magnesium Ferrite Material Doped with Samarium and Dysprosium for Designing–Microstrip Patch Antenna" Defect and Diffusion Forum, 2012, Vol. 332 pp 35-50

Asha Melba.V, Senthil Kumar.A, Vino.A, "Comparative study of tensile and Flexural behaviour for glass-fiber reinforced Aluminium (glare) laminates and aluminum" Asian Journal of Computer Science and Technology (AJCST), 2013, 1. (1), pp 5-13

P. Jani, A. Senthil Kumar, M. Adam Khan & M. Uthaya Kumar, "Machinablity of Hybrid Natural Fibre Composite with and Without Filler as Reinforcement", Materials and Manufacturing Processes, 2016, Vol. 31, pp. 1393-1399

Sivabharathy, A.Senthilkumar. K. Sakthipandi, P.Palanichamy,and K.Ramachandran, 'Thermal Expansion Studies on Zircaloy-2' , Advances in Refractory and Reactive Metals and Alloys (ARRMA-2016),  Materials Today: Proceedings 3, 2016, pp. 3064–3070

Adam Khan, S. Sundarrajan, M. Duraiselvam, S. Natarajan and A. Senthil Kumar "Sliding wear behaviour of plasma sprayed coatings on nickel based superalloy" Surface Engineering, 2017,Vol.33 (1), pp. 35-41

Vinayagar and A.Senthil Kumar, "Crashworthiness analysis of double section bi-tubular thin- walled structures" Thin-Walled Structures, 2017, Vol. 112, pp.184-193

Vinayagar and A.Senthil Kumar, " Multi-respose optimization of crashworthiness parameters of bi-tubular structures" Steel and Composite Structures, 2017, Vol. 23 (1), 31-40

Jani, S.P., Senthil Kumar, A., Adamkhan, A., Nithin, Rajakumar, 'Effect of coconut fillers on hybrid coconut Kevlar fiber reinforced epoxy composites' Carbon – Science and Technology, 2015,Vol. 7(4), pp. 50-58

Muthuchozharajan B, Mothilal S, Vinayagar K, Senthil Kumar A, Saravanakumar A, "Processing And Characterization of Banana Fiber Reinforced Polyester Composites And Pineapple Leaf Fiber Reinforced Polyester Composites" International Journal of Applied Engineering Research, 2015, Vol. 10 [15], 12077-12081.

Jani, A.Senthil Kumar, M.Adamkhan, S.V.Abishanth And I.Kalai Kumar, "Development of hybrid epoxy coconut, E-glass Fibre reinforced composite with coconut filler", International Journal of Applied Engineering Research, 2015, Vol. 10 (39), 30084-30089

P.Jani, A.Senthil Kumar, M.Adamkhan, S G Jebin Wins And S.Arul Raja Singh, "Development of hybrid basalt and e-glass fiber reinforced epoxy composite in addition of e-waste as fillers" International Journal of Applied Engineering Research, 2015, Vol.10 (39), 30073-30078

Muthu Chozha Rajan, B. & Senthil Kumar, A. & Madhan, V. & Pal Pandian, P. & Saravanakumaar, A. 'Experimental Investigation and Analysis of Mechanical Properties of Palm fibre reinforced Epoxy composites and Sisal fibre reinforced Polyester composites.' Carbon : Science and Technology, 2015 7(4) pp. 1-15

Vasant Naidu, R.Priyadharshini, K.Muthu Lakshmi, A.Senthil Kumar,' The Performance Enhancement Of Low Permittivity Microstrip Patch Antenna For Microwave Application' IOSR Journal of Electronics and Communication Engineering (IOSR-JECE), Volume 11, Issue 5, Ver. II (Sep.-Oct .2016), PP 33-41

Sivabharathy, A.Senthilkumar, K. Sakthipandi, P.Palanichamy,and K.Ramachandran, 'Thermal Expansion Studies on Zircaloy-2' , Advances in Refractory and Reactive Metals and Alloys (ARRMA-2016),  Materials Today: Proceedings 3 (2016) 3064–3070

Muthu Chozha Rajan , A. Senthil Kumar, T. Sornakumar,  P. Senthamaraikannan ,            M. R. Sanjay, 'Multi Response Optimization of Fabrication Parameters of Carbon Fiber-Reinforced Aluminium Laminates (CARAL): By Taguchi Method and Gray Relational Analysis' Polymer Composites, 2018, https://doi.org/10.1002/pc.24815 Published online in Wiley Online Library (wileyonlinelibrary.com)

Vijayarangan N., Senthil Kumar A., Sivakumar G.D., Muralikannan R. (2017) Systems Design is Needed for Smart Manufacturing Curriculum to India. In: Chakrabarti A., Chakrabarti D. (eds) Research into Design for Communities, Volume 2. ICoRD 2017. Smart Innovation, Systems and Technologies, vol 66. Springer, Singapore

Muthu Chozha Rajan, A. Senthil Kumar, T. Sornakumar, S.S. Saravanakumar, 'Impact Response and Damage Characteristics Carbon Fibre Reinforced Aluminium Laminates (CARAL) under Low Velocity Impact Test' Materials Today Proceedings, Jan 2018, Vol.5 (9), pp. 20070–20077

Sakthipandi K, Lenin N, Rajesh Kanna R, Senthil Kumar A, 'Structural, Electrical and Magnetic Properties of NiLaxFe2-xO4 Nanoferrites.' Materials Chemistry and Physics, 212, 15 June 2018, pp. 385-393

K Sakthipandi, R Rajesh Kanna, N Lenin, Senthil Kumar A, 'Structural, optical, dielectric and magnetic studies of gadolinium-added Mn-Cu nanoferrites' Journal of Magnetism and Magnetic Materials, Vol. 453(1), May 2018, pp. 78-90

Saravanakumaar, A. Senthilkumar, S. S. Saravanakumar, M. R. Sanjay & Anish Khan, 'Impact of alkali treatment on physico-chemical, thermal, structural and tensile properties of Carica papaya bark fibers' International Journal of Polymer Analysis and Characterization, Vol. 23(8), 2018, pp. 529-236

Muthu Chozha Rajan, A. Senthil Kumar, 'The Influence of the Thickness and Areal Density on the Mechanical Properties of Carbon Fibre Reinforced Aluminium Laminates (CARAL)' Transactions of the Indian Institute of Metals, 2018, Vol.71 (9), Sept. 2018, pp. 2165–2171

Asha Melba & A. Senthil Kumar 'Impact Response and Damage Resistance Behavior of GFRP /Aluminum Fibre Metal Laminates during Low Velocity Impact Test' Indian Journal of Engineering & Materials Sciences, December 2018, Vol. 25, pp. 450-458

Saravanakumaar, A. Senthilkumar, T. Sornakumar, S.S. Saravana kumarand V.P. Arthanariesewaran, 'Physicochemical properties of new cellulosic fiber extracted from Carica papaya bark' Journal of  Natural Fibers, 2019, Vol. 16 (2), pp. 175-184

AdamKhan, A.SenthilKumar, S.Thirumalai Kumaran, M.Uthayakumar, TaeJoKo, 'Effect of Tool Wear on Machining GFRP and AISID2 Steel Using Alumina Based Ceramic Cutting Tools' Silicon, Vol. 11, 2019, pp. 153-158

Subramanian, A. Senthil Kumar, K. Vinayagar & C. Muthusamy, 'Experimental analyses on heat transfer performance of TiO2–water nanofluid in double-pipe counter-flow heat exchanger for various flow regimes' Journal of Thermal Analysis and Calorimetry, 2019 (Oct), Vol 10, pp 1588-2926

Sakthipandi, M. Sivabharathy, A. Senthil Kumar, 'Study of phase transition in Cu-doped La0.7Sr0.3MnO3 perovskite manganite materials by ultrasonic technique' Materials Today: Proceedings, 2019, https://doi.org/10.1016/j.matpr.2019.05.301

RajeshKannaa, K.Sakthipandi, A. SenthilKumar, N.R.Dhineshbabu, S.M. Seeni Mohamed Aliar Maraikkayar, A. Sabah Afroze, Rajshree B.Jotania, M.Sivabharathy, 'Synthesis of dysprosium/Mn–Cu ferrite binary nanocomposite: Analysis of structural, morphological, dielectric, and optomagnetic properties' Ceramics International https://doi.org/10.1016/j.ceramint.2020.02.157 (Accepted 17 Febraury 2020)
Email : principal@sethu.ac.in
Phone : 04566 229705