The College takes efforts to make students and faculty to be aware of their responsibilities towards the societal issues. The College has two National Service Scheme units with two Programme officers and 200 student volunteers. The students experience rural lifestyle and understand the social issues the villagers face through the mandatory seven day annual NSS camp. Moreover the college organizes social outreach programs and ISR activities through the forums like Youth Red Cross, Entrepreneurship Development Cell and Red Ribbon Club. Programs on Women Empowerment, Career orientation to school and polytechnic students are also organized in the college regularly. 
UNNAT BHARAT ABHIYAAN (UBA)
Our College has been selected as one of the Institutes to participate in UNNAT BHARAT ABHIYAAN (UBA), is a flagship programme under MHRD, Govt. of India. The objective of this programme is to motivate and engage the reputed higher educational institutes to work for rural areas. The selected institute is expected to customize the available technology or develop new technologies as per the local needs and also to improve the implementation of existing Government programmes.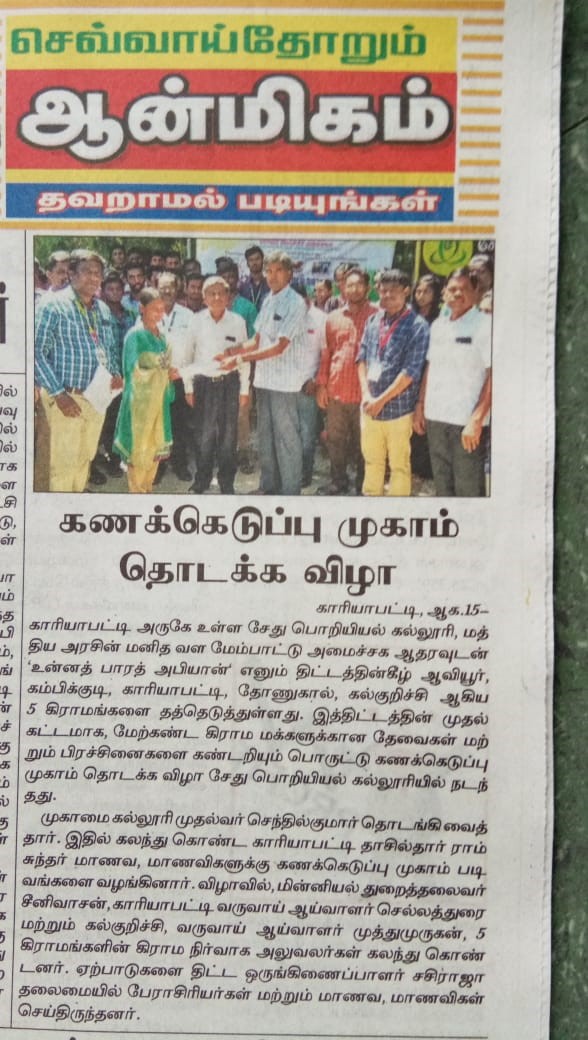 Appreciation awards for Best Donors in zonal level from MMRHC 2014 for blood donation.
Appreciation awards has been received by the college for conducting Blood Donation camps from Tamil Nadu State AIDS control society and State Blood Transfusion council, Chennai in all the four academic years
During the academic year 2013-14 one of the N.S.S Student volunteers Selvan. R.Rajesh attended the  Special Adventure camp held at Dharamshala, Himachal Pradesh organized by  Ministry of Youth Affairs & Sports
Appreciation certificates received from the nearby Panchayats of Mandri Odai, Mustakkurichi and Narikkudi for organizing various awareness programmes.