MAMMSIT: A Database For The diagnosis and detection of Breast Cancer in Mammography images
Mammography is one of the well-known methods for the detection of breast cancer. Breast cancer is one of the most common diseases among women. Now a days image processing is the growing technology for various applications in medical field: Cancer imaging, brain imaging, and development of diagnostic devices. In the medical image processing, lot of difficulties exist in locating the tumor in images for development and testing public mammographic images. In this database, a set of the mammographic images is created.  The projected mammogram database is termed MAMMSIT, characterizes an attempt to offer a group of  images of Normal and Malignant mammography images. The details such as age, ultra sound screen position (i.e., left and right )  and BIRADS level in of the patient are interpreted in the database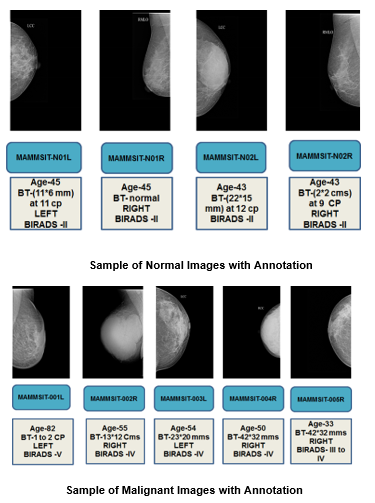 Download procedure:
Step 1. Download, fill, and sign the End User License Agreement. You need to be a representative for your organization (students are not accepted) and use your official email address in the organization in order to request for the Database. After filling the form, please scan it and return the whole document to "tamilselvi@sethu.ac.in".
Step 2. Upon reception of the signed agreement we will evaluate your profile, and the dataset link will be sent to your account.
Citation:
Please cite the following paper if you make use of this database: M. P. Beham, N. Kayalvizhi, R. Tamilselvi and A. Nagaraj, "MAMMSIT: A Database For The diagnosis and detection of Breast Cancer in Mammography images," 2020 Sixth International Conference on Bio Signals, Images, and Instrumentation (ICBSII), Chennai, India, 2020, pp. 1-5, doi: 10.1109/ICBSII49132.2020.9167662.
 The paper can be downloaded from the below link:
10.1109@ICBSII49132.2020.9167662
 For any comments and suggestions, please contact:
  tamilselvi@sethu.ac.in & parisabeham@sethu.ac.in