About the Conference
SITCON-2020 Is An Annual Conference Promoting Research In Engineering And Technology.
The 8th National Conference SITCON-2020 is scheduled on 4th September 2020, as a virtual conference VSITCON-2020, due to COVID-19 Pandemic.
4th SEPTEMBER, 2020
vSITCON-2020
The virtual conference encourages to submit authentic research papers from both academia and industries in the current thrust areas of computer science and engineering, not limited to Artificial Intelligence, Big Data, Data Science, Business Intelligence, Machine Learning, Medical Image Processing, Network Security,Cyber Security.
Selected extended papers will be published to Reputed Journals
Call for paper

Full Papers / Abstracts: Submissions are invited for the 8th National Conference SITCON-2020 to be held in Sethu Institute of Technology, Kariapatti, Madurai. This is an exceptional platform for researchers, academics, students, innovators, scientists and industry practitioners to discuss current research which is shaping a new world society. This conference will be a good platform to share research, innovations, and best-practices where constructive feedback and engagement with domain experts is expected. We encourage any submissions that present novel ideas, works-in-progress or any concepts that you think can benefit from inputs from experts. Students and/or emerging researchers are encouraged to participate.

8th National Conference SITCON-2020

invites original contributions on all topics related to Computational Science, including, but not limited to:


• Artificial Intelligence
• Big Data
• Data Science
• Business Intelligence
• Machine Learning
• Medical Image Processing
• Network Security
• Cyber Security.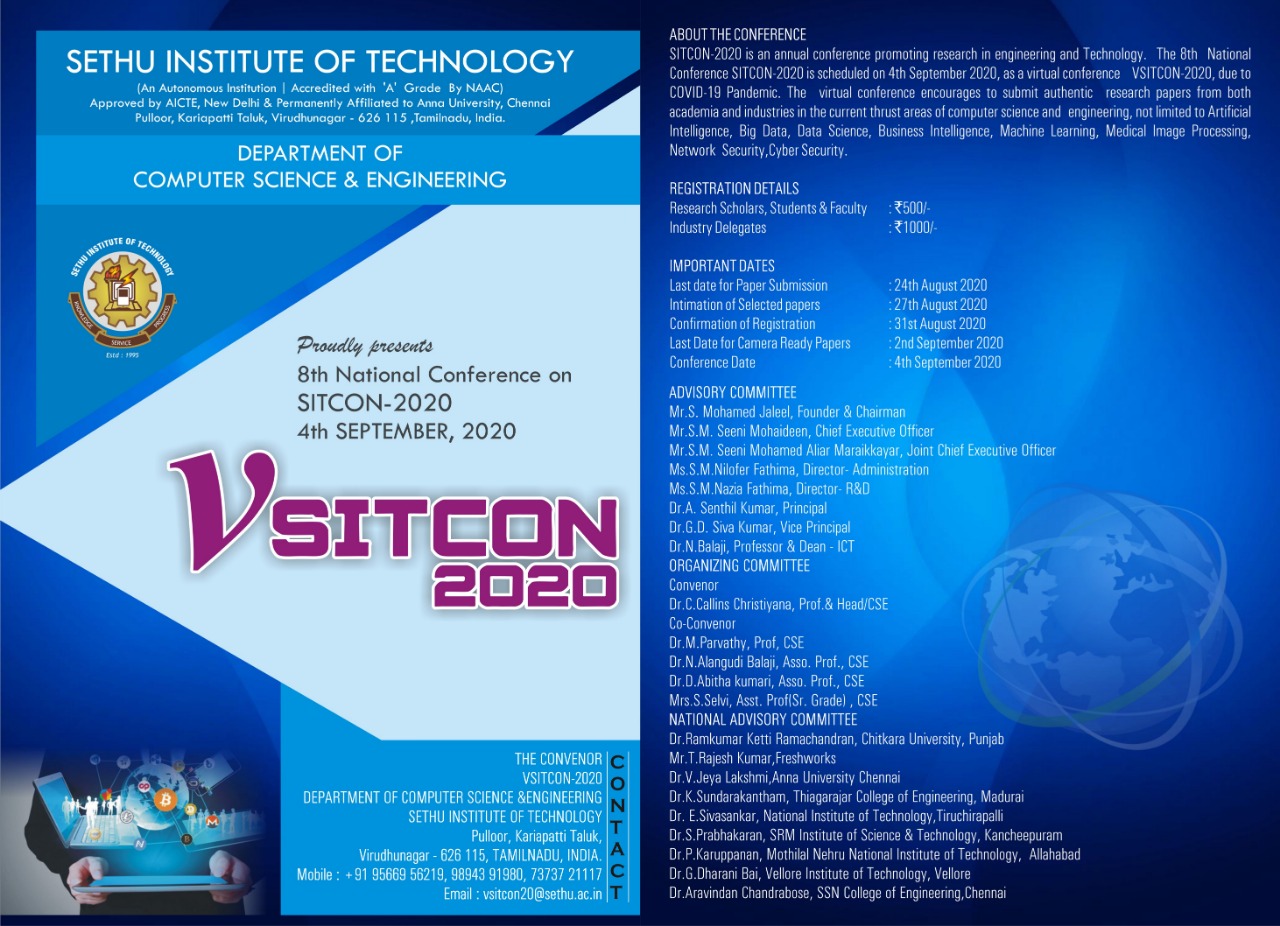 Registration Details:
Research Scholars, Students & Faculty : ₹500/-
Industry : ₹1000/-
Conference Date : 4th September 2020
Guidelines For Authors:
The manuscripts should be submitted in .Doc or PDF format.
All papers that conform to submission guidelines will be peer reviewed and evaluated based on originality, technical and/or research content/depth, correctness, relevance to conference, contributions, and readability. Acceptance of papers will be communicated to authors by email. The authors of the accepted papers will be allowed to make corrections in accordance with the suggestions of the reviewers and submit final camera-ready papers within the stipulated deadline.
Instructions For Authors:
1. Original papers based on theoretical or experimental works related to the above mentioned sub themes are solicited for presentation in the conference. The paper should begin with title, short abstract and a list of keywords. Simultaneous submissions (papers already submitted to other conferences/journals) are not allowed.
2. All papers must follow (given in point 4) formatting instructions
3. Please do not submit plagiarized papers.
4. Download Paper Format in DOC
US letter (DOC, 30 KB) Updated Jan 2019
A4 (DOC, 30 KB) Updated Jan 2019
Organizing Committee
Convenor

Dr.C.Callins Christiyana, Prof.& Head/CSE

Co-Convenor

Dr.M.Parvathy, Prof, CSE
Dr.N.Alangudi Balaji, Asso. Prof. , CSE
Dr.D.Abitha kumari, Asso. Prof. , CSE
Mrs.S.Selvi, Asst. Prof(Sr. Grade) , CSE

National Advisory Committee

Dr.Ramkumar ketti ramachandran, Chitkara University, Punjab.
Mr.T.Rajesh Kumar,Freshworks.
Dr.V.Jeya Lakshmi,Anna University Chennai.
Dr.K.Sundarakantham, Thiagarajar College of Engineering, Madurai.
Dr. E.Sivasankar, National Institute of Technology,Tiruchirapalli.
Dr.S.Prabhakaran, SRM Institute of Science and Technology, Kancheepuram.
Dr.P.Karuppanan, Mothilal Nehru National Institute of Technology, Allahabad.
Dr.G.Dharani Bai, Vellore institute of Technology, Vellore.
Dr.Aravindan Chandrabose, SSN College of Engineering,Chennai.
Contact Us
Location:
DEPARTMENT OF COMPUTER SCIENCE AND ENGINEERING, SETHU INSTITUTE OF TECHNOLOGY (Autonomous), Pulloor, Kariapatti Taluk, Virudhunagar - 626 115, TAMILNADU, INDIA.
Email:
vsitcon20@sethu.ac.in
Call:
+91 95669 56219, 98943 91980, 73737 21117